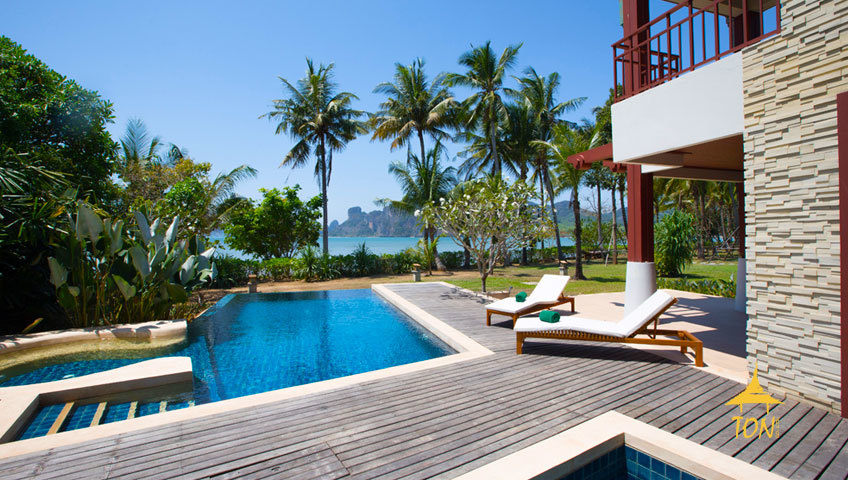 Villa Rentals Benefits
As well as designing and building villas, Ton Company ltd. is a full service provider of property management and rental.
We are committed to maintaining and monetizing owners' valuable investment; as well as simplifying life for those who do not plan to live in their property year round. For our villa guests, we strive to offer both luxury and convenience, coupled with a highly personalized service, ensuring an unforgettable experience of Krabi. Complete satisfaction and peace of mind for both property owners and guests is our goal.
For owners: Total peace of mindKrabi Villa Care and maintenance of their holiday home is the number one worry for most villa owners. Unoccupied properties are susceptible to break-ins; pest invasions; overgrown gardens; and even structural damage if problems like loose roof tiles in monsoon season go undetected. There are also smaller issues such as utility bill payments that need to be attended to. Ton Company offers an A – Z service that will ensure a property is effortlessly kept in shape – and immediately ready to live in whenever the owner or guests arrive. All operations also have a long-term focus: to increase the property value.
Almost everything, from routine maintenance such as pool care, gardening and housekeeping, to regular preventative assessments that will pre-empt problems, is carried out and managed by our professional in-house team, keeping owners' costs to a minimum. Years of experience with numerous properties allows us to accurately forecast and predict virtually all expenses; and we believe in straightforward, frequent and open dialogue with owners to enable them to understand and plan their annual budgets. **Making your investment work** To offset maintenance costs, and to monetize owners' investment, Ton Company offers a comprehensive villa rental program.
Each property will be individually showcased under the aegis of "Krabi Villas by Ton Company", the brand leader in the Krabi area. Our pro-active marketing strategy involves intelligent use of both print and online media, with the main focus being on our professional and user-friendly websites. Each property has its own website, with specially commissioned photography; and is also featured on the main company site, with an instant availability check and online reservation system on both.
All bookings are handled by our dedicated staff; and on arrival, guests' customer experience is second to none (see below), ensuring a high number of return customers. We actively work to maximize rental yield, while allowing total flexibility with regard to the owners' own occupancy of their property (no blackout periods, or other restrictions). Villa owners will also benefit from a VIP arrival service, with any stored possessions unpacked and the fridge stocked with basic groceries. All the villa amenities provided for paying guests will be available to them.
For guests: The "serviced villa" conceptKrabi Villa Guests who stay in a property managed by Ton Company will experience all the benefits of a holiday villa – total privacy, seclusion, no fixed meal times (e.g. for breakfast) – enhanced by a full range of hotel style services: daily cleaning; tour and excursion booking; massage and beauty treatments*; catering*; as well as a personal concierge. With Ton Company, privacy does not come at the expense of luxury; nor does it mean isolation: a villa tuk-tuk is also at the disposal of guests for local trips around the Ao Nang area, whether to the local market for groceries, or to the beach front for dinner. Each house is appointed with top of the range kitchen equipment and bed linens, and offers all mod cons such as satellite television, DVD player, computer, and wireless broadband internet connection. All villas offer their own swimming pool - and a walled compound to ensure privacy and security.
A bespoke vacation Our 10-strong villa staff have been individually trained by the company director, Pierre-Yves Loriers (Ton), who has previously held a variety of managerial positions in the five-star hospitality industry; this training, together with the natural Thai warmth and kindness, means guests will feel truly pampered –however they choose to interpret that word. Our service is always tailored to the individual needs and expectations of each set of guests, be it a family seeking frequent assistance for a stress-free vacation, or a couple preferring a more discreet type of luxury.
A personal, English-speaking concierge will welcome guests on arrival – complimentary airport transfers are included in the price – and she is then reachable by telephone – pre-paid mobile provided – at any time during the stay. This may be to arrange a snorkeling trip, a day trip to koh Phi-Phi; offer restaurant suggestions; or simply to help translate while out and about. If no help is required, then guests will be left in peace.
The concierge is also the "villa manager", who will liaise with owners throughout the year, ensuring continuity of service and a thorough knowledge of each property.