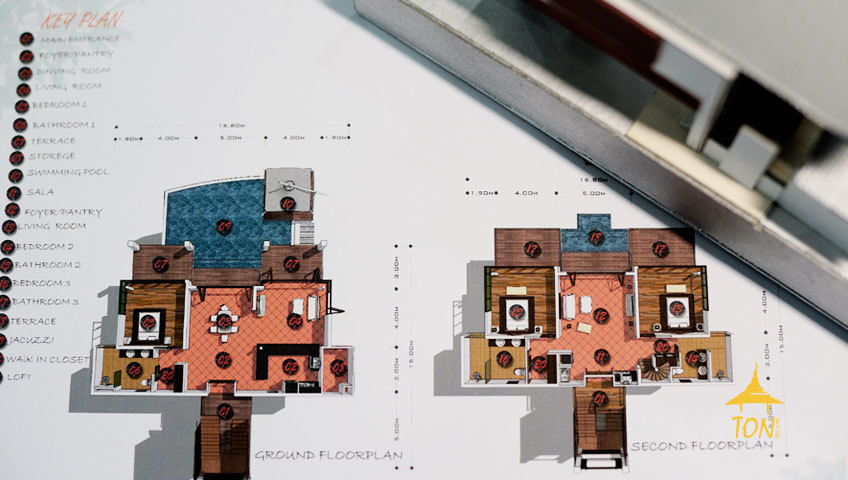 Working with a reputable architect
Many people dream of designing and building their own villa so that they can live in the tropical paradise of Thailand in style – Ton Company Ltd. is proud to have made that dream come true for countless satisfied customers.
We have over 10 year's experience, with more than 60 successful Architecture and Construction projects in Thailand already under our belt. Designing and building your own property from scratch, can be the most rewarding experience. It can also be challenging and stressful, particularly in a foreign country where you are unfamiliar with the language, culture and local construction industry. We have the wealth of experience and local industry knowledge to make your project both a stress-free and enjoyable process.
We are the number one Krabi Developer, delivering architecture and construction projects throughout Thailand including Krabi, Phuket and Trang. Thai architecture is highly distinctive and specifically designed for a tropical climate - we specialize in Asian Tropical Architecture and Construction and are familiar with both typical Phuket Architecture and Koh Samui Architecture. Our qualified team of construction professionals speaks English, French and Thai.
Our management team consists of licensed Architects, licensed Construction Engineers, Foremen, Project Manager and Landscape Designers. Every project is allocated to a dedicated Project Manager who will take personal responsibility for ensuring all your requirements are met. Our unique and comprehensive Architect & Construction Service encompasses the complete 'end to end' process from buying land and creating construction plans to adding finishing touches such as landscaping and interior design.
We even offer a Property Management Service if you want to generate a future rental income. If you have already decided that Thailand is the location for your new home, then you won't need us to remind you of the many benefits of living in this most beautiful and vibrant country! Initial Consultation So, you have made the important decision to build your dream villa in Thailand and you are now ready to turn that dream into a reality. Your initial consultation is an exciting opportunity for you to share with us your vision and discuss your functional requirements. This will include the type of construction, specifics on the number and size of the rooms and their intended occupants and purpose. We will ask you many questions at this stage as we want to pin down your exact requirements as early as possible so that we can provide realistic advice on what is achievable within your proposed budget.
We will also furnish you with ideas and recommendations of our own, which you may also wish to consider. As part of our comprehensive service we can also purchase the land on your behalf – if you opt to do this independently then it is important to bring along any documentation related to your plot so we can ensure that there are no potential issues that may affect the project. Based upon your first consultation an architect from Ton Company will give you an initial proposal confirming the project scope and provide you with a preliminary cost estimate.
Design Our core design concept is to create simple, yet elegant Thai villas designed for tropical living such as the traditional Krabi Design and Build. The layout should be practical and maximize space and we will take care to ensure that ongoing maintenance is manageable and economical. We regard every design project as collaboration between the architect and the client and view our clients as contributing members of the design team. In fact, we encourage an open dialogue throughout the entire process and our client inclusive approach ensures that you receive continual expert advice and guidance on all aspects your project. Based on information gathered in your initial consultation, our architect will provide you with a Schematic Design to give you a visual image of the property and the room layout.
This is not intended to be the finished article and your architect will continually revise the design with you, until you are 100% satisfied. You will review the Schematic Design together to ensure that you are happy with the room layout, flow and the overall look and feel. Your architect will also explain anything that is not clear, so don't be afraid to ask as many questions as possible. We want to ensure that we are all working towards the same end result and it is significantly easier to make changes to the design at this early stage! Design Refinement and Development We will propose the most efficient and cost effective method for construction and constantly evaluate the design throughout the entire design and development phase.
At this stage your architect will present a much more detailed Schematic Design to provide you with a picture of the finished product. It will include the structural elements, plumbing and electrical installations and even details of the finishes, such as lighting arrangements etc. We will help you check the Schematic Design thoroughly and only once we have answered all of your questions and you are completely satisfied, will we ask you to approve the design. Construction Documents Next your architect will prepare the Construction Documents that must be submitted to gain a permit or approval to build – don't worry, your dedicated Project Manager will lead the entire process for obtaining build permission, so you are in safe hands. It is at this stage in a build project that you should investigate reliable builders and contractors, but again, Ton Company Ltd. will take care of that for you.
We also have our own construction team so depending on availability we will be happy to bid on the project as well. Hiring the Contractors As soon as the Construction Documents are complete we will begin to source the contractors for construction. With our in-depth knowledge of local Thai contractors, we perform a number of critical activities on your behalf including: Pre-qualifying contractors for invitation to tender. Analyzing tender bids from selected contractors and conducting tender negotiation. Selecting contractor(s) and preparing all necessary contracts. Agreeing construction timelines with contractors to ensure work will complete within project timelines.
Construction This is the moment that you have been waiting for, although it can prove the most busy and stressful aspect of the entire project. However, with Ton Co. Ltd. managing the entire construction for you, you are able to sit back and enjoy watching your dream take shape and finally become reality! Your dedicated Project Manager will adopt a strong 'hands-on' approach and perform the following activities: Evaluate monthly bills from the contractor to ensure no over payments Evaluate and cost all variation requests from the contractor Maintain Project Accounts. Prepare final Project Accounts in preparation for client handover. Identify areas that require specialist contractors such as landscaping Manage on site construction using specialist inspectors and engineers to ensure all building works comply to quality expectations and Building Regulations Ensure full Health and Safety procedures are adhered to.
Handle day-to-day site issues such as 'Requests for Information', and 'Requests for Approval' Conduct regular site meetings with contractors to address issues and ensure progress Ensure construction works remain on budget. Completion At last your new home is ready!
As we want to ensure that your villa is everything you dreamt of, our Project Manager will provide a full aftercare service so that you can move in and enjoy peace of mind. Your Project Manager will: Compile a 'Defects' list and manage all defects until resolved Handover to client and manage the defect liability period for a further 12 months.
With a reputation for exceptionally high quality Thai architecture, we are confident that you will our find competitive prices and excellent customer service impossible to beat. We are more than happy to show you our current projects and arrange a visit to one of our sites, so why not contact us today to make an appointment?