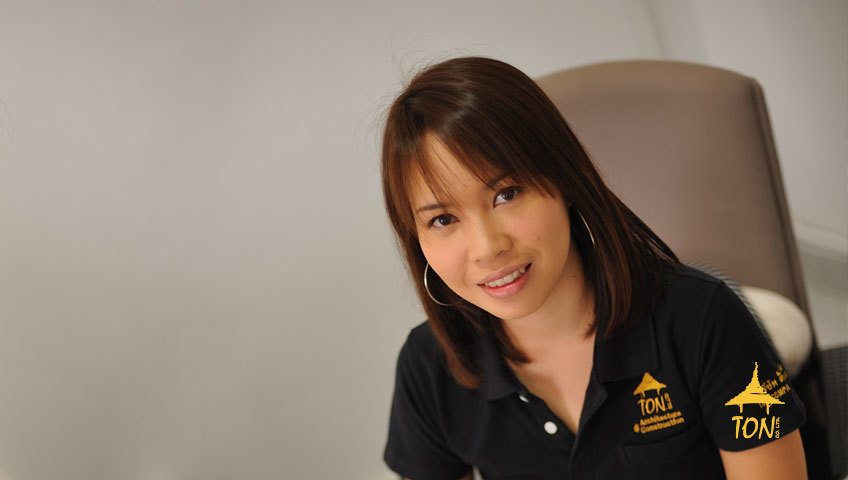 Selling your villa to the world
Do you have a new holiday home in Krabi that could be earning you income? Ton Co. Ltd., the leader in property management in Ao Nang, will do everything possible to promote it with a comprehensive rental program and dedicated website marketing team Jittakarn Hemjit (Karn) is a graduate of Bangkok University, majoring in English.
After embarking on a career, her first employer tasked her with creating a website – something she knew little about at the time. Through self-tuition, she discovered a passion for web design and has since followed up with specialized courses in Photoshop and web marketing.
Since 2008 she has been working for Ton Company as webmaster and in that time has tripled their portfolio of websites, as well as updating each in terms of design and technology. "I really enjoy my work because it's quite complex. Our websites have to serve many purposes: they are a marketing tool for the company; a 'shop window' for all the villas we manage; and a place to interact with current and future customers.
So there are already three interest groups that need to be catered for: this requires careful planning and execution."Customer experience is top of the list when we design a website. We focus on making the site easy to use, with good navigation and of course ample opportunities for guests to book and pay! This is very important for our other client group, the villa owners. Many people have a beautiful home and hope to rent it out while they are away, but it can be disappointing if the management company does not have a good system in place to attract bookings.
"We aim to offer a very fast turnaround for new villas. It takes only a few days to put a listing across Jittakarn Homjitour whole network. We use a professional photographer and copywriter to create the content, in order to make sure that the villa is presented in the best possible light.
Then our software provides a dedicated availability calendar and an instant quotation and booking system with secure online credit card payment, which are key features that customers look for in any accommodation website. "The online availability calendar can also be used directly by villa owners to view their bookings and to block the dates when they will be in their home.
"Our other focus alongside great customer experience is search engine optimization (SEO) and improving page ranking. This determines where a website will appear in search engine results. The parameters are constantly changing but I keep up to date with courses in Bangkok and we have a clear strategy to maintain our first page listing for certain keywords on all the major search engines (Google.com, Yahoo and Bing).
"In addition we are always developing new websites to build our brand, which has been in existence for ten years, and we have made professional translations of our content to push the brand into new markets in Asia and Europe – we recently started offering a Russian version of our main booking site, www.KrabiVilla.ru, for example. "We are also pro-active in seeking online partners to market the villas.
We have listings that have garnered excellent reviews on Trip Advisor and work with several travel agencies that increase the reach of the properties worldwide. "This is really a never-ending job! Things move so fast in the internet world, whether you are talking about design or software and it is important to keep up, so we can maintain our position and improve sales."