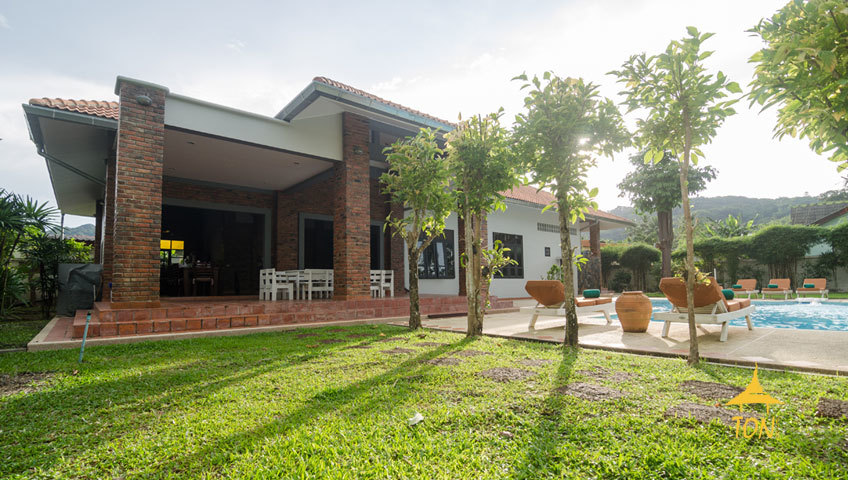 Home Improvement
Whether increasing the value of your villa, or simply making your home more comfortable to live in, Ton Company helps you plan and deliver the right upgrades Home makeovers have been in fashion for the last decade and the trend for all things déco seems here to stay.
But what if the changes you wish to make to your home are not in the DIY category of painting walls or replacing the drapes? For any substantial refurbishment, such as remodeling a kitchen or bathroom, it makes sense to call a professional to help. Be wary, however, of the jack of all trades who claims he can do it all. A basic kitchen refitting will require the skills of a draughtsman; a carpenter; an electrician; and a plumber – and this without including any finishings such as tiling and stone cutting (for countertops), all of which require specialist attention to be carried out properly.
This is why, in response to the increasing local demand for home improvement work, Ao Nang's Ton Company has invested in a team of experts in each of these fields who come together on projects such as at Baan Lompai (see below), to ensure the vision of the home owners is translated correctly and to the proper standard. The growth of home renovation in Krabi can partly be put down to the availability of new materials. "The recent opening of stores such as Home Pro has really changed the way people think about their homes," says Pierre-Yves Loriers (Ton), the managing director of Ton Company. "If your house was built even five years ago, chances are you had an extremely limited choice of sanitaryware; built-in units were not an option; and instant electric heaters were the only way to get hot water."
The improvement in the choice and standard of materials in Krabi now makes home upgrading almost a necessary investment in order to safeguard the value of your house. "In the villa rental market especially, we see more properties appearing," says Ton. "It is important for owners to maintain quality in this competitive market." Some changes recommended by Ton Company to stay on top of the game are cosmetic: changing floor tiles to create a more modern look; or adding a semi-outdoor "spa-style" bathroom, for example. But some are also structural: redoing the plumbing to add a more energy efficient hot water boiler; or retiling the roof with the latest Dry Tech technology are just some ideas. If possible when undertaking work, provide your building company with the original house plans.
These are important in order for them to understand the way the plumbing and electrical systems – among other things – are laid out. "One of the biggest difficulties when carrying out a refurbishment is the unknown – you are never certain what you will discover once you start to break walls!" says Ton. "In order to avoid nasty surprises later (which could entail more work than originally planned), we try to assess all the risks from the start." **BAAN LOMPAI: RENOVATION CASE STUDY** The owners of this private pool villa decided to modernize the property, which was built in 2003. The first task was to retile the entire floor surface, which had to date been covered with a motley collection of shades and patterns, in a neutral palette.
Using the same, light-coloured tile throughout creates an impression of space and "flow" in the house. Next was the creation of a new master suite, in a previously dark bedroom at the back of the villa. This was opened up with French windows onto the rear patio, and closet space was built in.
Finally a new ensuite bathroom was added in an extension at the side of the house. This was designed in the latest "spa" style, with the use of plants and natural stone surfaces. The oversized bathtub and rain shower area are housed under a transparent, semi-open roof to allow maximum light. The other two bathrooms in the house were also refitted with new sanitaryware and tiles, and each now has a walk-in rain shower.
The kitchen - which beforehand had limited built-in storage, as well as a breakfast bar and sink at an awkward height - was also completely renovated. The main counter was lowered, and built-in cabinets and a broom cupboard were added for storage. The sink was re-positioned with a new grease trap, and a dishwasher added. Finally Ton Company custom-designed a movable storage island and all counter tops were laid with black granite.
With such a major project, Ton Company also advised the villa owners to take the opportunity to redo the outdated electrical and plumbing systems and so Baan Lompai now has up-to-date wiring and a closed in technical room at the rear of property conveniently housing the water filter, pressure pumps and new hot water boiler. Finally, outside the main house, the perimeter wall was extended higher; and a new pool shower was added.
Unlike many contractors, Ton Company undertakes each project to the finish, which means that all the cleaning, repainting and replanting after such a massive job were taken care of, allowing the owners to move directly back into their transformed living space.