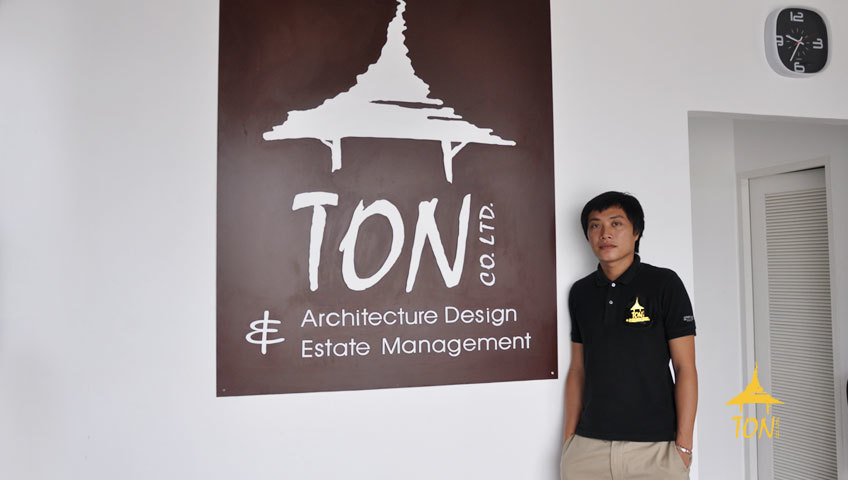 Designing for the future
Ton Company Ltd continues to invest in people, recently bringing in new talent to join its in-house architectural team. Here, we meet Somphong Yeabsul (Khun Tae), an accomplished licensed architect with 9 years of experience following his graduation from Mahasarakham University and Masters Degree from Chulalongkorn University.
A specialist in building and environmental technology, he has worked in all the major tourist areas of Thailand – Hua Hin, Koh Samui and Phuket – before his move to Krabi to join the area's leading architecture and construction firm. How do you find Krabi compares with other tourist areas in Thailand in terms of the rate and quality of housing developments? I would say Krabi is most similar to Koh Samui, as it was maybe 3 – 5 years ago. Many people compare Krabi with Phuket, but actually in Phuket the trend is now for very luxurious residential property and at a much higher density – in town homes and condominiums. In Krabi, I think the great advantage is that you have so much space and land is not so expensive.
It is still possible to build an affordable individual villa on a large plot, which is ultimately what most people prefer. You have worked in an international setting and with many foreign clients for the past 5 years: what would you say are the main issues for them when planning a holiday or retirement villa in Thailand? The biggest issues are usually climate related. The weather in Thailand is much more hot and humid and also there is a lot of torrential rain during monsoon season. These factors influence the design a lot more than many clients imagine. I try to design homes that blend western functions and facilities with local architectural features to create comfortable and practical living spaces with good air flow.
Shaded outdoor space is also very important as most people will end up spending much more time outside than they may first imagine. In terms of style, my portfolio is quite varied, which fits well with Ton Company's own range of residential projects. I like to work across the board from simple, but functional town homes to modern and innovative statement villas – it depends what the client wants from the project.
How do you use your training in building technology on the job? Building technology involves incorporating the latest scientific research into the project design to make it environmentally-friendly on various levels. For example, I am very interested in energy conservation and designing energy-efficient homes that work with the natural environment. So it is important as an architect to choose appropriate and durable building materials to reduce power consumption and wear and tear; and also to design spaces that maximise natural ventilation and ensure natural light and shade at the right times of day. These things help to protect and reduce the impact on the environment, and also keep running and maintenance costs down for the owner – both major concerns for Ton Company.
A technical understanding of the construction materials also allows me to work more effectively with our in-house engineer, Khun Sittiporn, which means a smoother design process for the client. What happens after the design has been completed and approved? Do you then move on to the next project? No, not at all! In my previous employment I was also a "site architect", which I will continue to do here at Ton Company. This means I will work on site during construction to ensure the plan is delivered correctly by the building team and also be on hand to make updated drawings or corrections to the original plan as work progresses. This allows us, for example, to make sure tiles are laid without breaks if the actual floor space differs from the plan dimensions by a few centimetres; or to offer immediate solutions if the clients change their mind about anything. What are you working on at the moment?
Our latest project is creating a group of five villas in the Ao Thalane area, for some clients who work in the construction industry in the Middle East. It's been a very interesting process as they have a lot of knowledge about the building techniques for hot climates, though not so much about high humidity. We have had a good exchange of ideas and now we are working on the designs. I am really looking forward to working here at Ton Company and also in Krabi.
This seems to be an exciting time for the area and it is very open to fresh ideas and innovation, especially in the field of environmentally friendly housing. Krabi is famed for its natural beauty and we should want to protect it as much as possible.