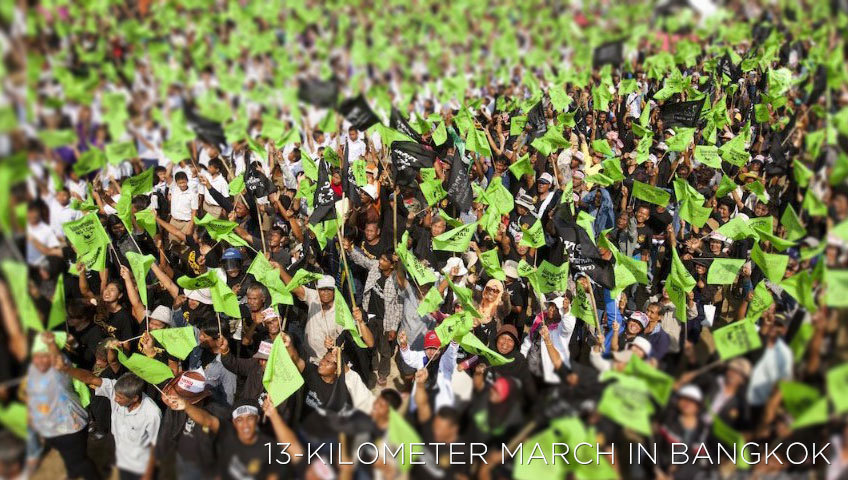 Environmental Impact Assessment on Krabi coal port rejected as misleading and incomplete
A panel of experts rejected the recently released Environmental Impact Assessment (EIA) regarding a possible coal-fired power plant project at the Klong Rua port of Krabi in a meeting at the Office of Natural Resources and Environmental Policy and Planning (ONEP).
Although the panel found the assessment to be misleading and incomplete, project protesters, the Protect Krabi Network, said the findings did not go far enough. They want the entire project disbanded, and want an assessment that will take into account additional ways such a project would affect the environment and people's health.
Approximately 40 members of the network were present outside the ONEP, protesting by lying outside the office, and covering themselves in white fabric to symbolize the deaths the project could cause. They later released a statement saying, "It [the EIA/EHIA - environmental health impact assessment process] does not present comprehensive information, nor does it incorporate all concerns from every sector," adding that the process does not allow for the expression of public opinion.

Klong Rua resident Ormjai Chueataly addressed the panel directly on behalf of the Network. In addition, ONEP was presented with 44,000 signatures of those supporting abandonment of the planned site of the coal seaport and coal-power plant, and stating that they want the area's environment protected.

Network member Somnuek Krodsua highlighted the importance of maintaining marine diversity in the Krabi River Estuary, which provides the main source of income and food for the local communities.
Protect Krabi Network Marches Peacefully in Bangkok.
A few days prior to the review meeting, five Network representatives staged a 13-kilometer march in Bangkok, starting from the Pollution Control Department, to the Mahidol University's Faculty of Public Health, and ending at Chulalongkorn University. They demanded abandonment of the coal plant at the proposed site, as well as reform of the assessment process.
Krodsua stated at that time that the panel "…will determine if the Province will maintain its unique environment as the 'Emerald of Andaman', or be under threat from dirty coal plants."
Greenpeace Southeast Asia and Thailand' Country Director Tara Buakamsri supports the Network's ideas urging that an independent authority assess the plan, stating it should not be undertaken by any agency that is part of the Office of Natural Resources and Environmental Policy and Planning. He said that the need for transparency and impartiality is vital to get a true picture of the impact of the plan, and called on leaders to develop a decentralized hybrid renewable energy system that did not involve coal.
The Electricity Generating Authority of Thailand came up with the plan to create the Klong Rua Coal Seaport, in an effort to find a way to import coal from Indonesia, Australia and Africa. The area they chose in Krabi is one of the few wetlands in Thailand, and is said to be of international importance.
(Source: National Multi Media)