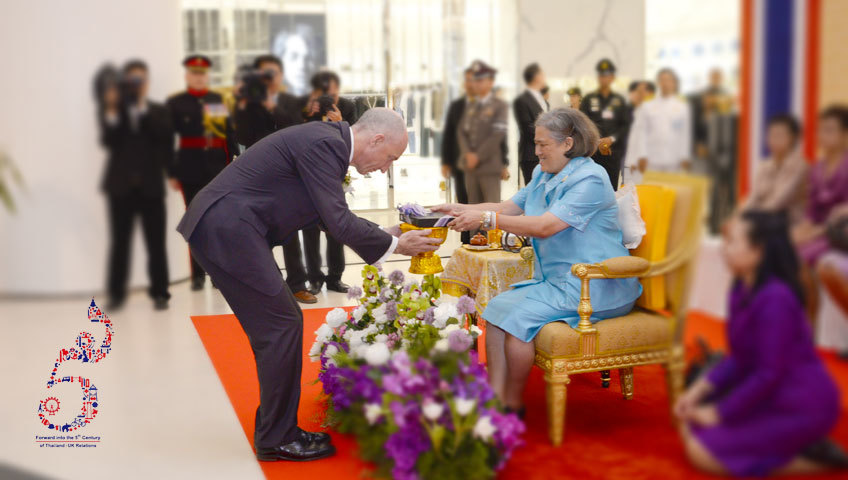 Her Royal Highness presides over new exhibition opening depicting Thai-UK relations
Her Royal Highness Princess Maha Chakri Sirindhorn recently presided over the opening of a new exhibition in Bangkok depicting Thai-U.K. relations, at the Central Embassy lifestyle shopping mall. "The Celebration of Thailand – U.K. Relations Forward into the 5th Century of Thailand" celebrates the longstanding relationship between Thailand and the U.K. The exhibition is a joint between the Central Group and the British Embassy in Bangkok, and runs through March 16, 2015.
The exhibition depicts the U.K.'s and Thailand's relationship that has spanned several centuries. The two countries have a long history of trade agreements, sharing of ideas, and tourism. The informative display features information on how the cultural and educational exchanges have cemented their mutual cooperation and understanding.
The exhibition shows many never-before-seen photographs of their respective royal families, and explains the many reasons for the close ties between the two nations.
In an interview with TAT news, Tourism Authority of Thailand's Governor Thawatchai Arunyik stated, "Britain and Thailand have a close and rich shared history – from the days when Thai royalty would head to the U.K. for their education, to the many thousands of British tourists who come to Thailand every year for holidays. For centuries we've shared ideas, traded and respected each other's vibrant, unique cultures, and this fascinating exhibition will tell this story to Thais and tourists alike."
Managing Director Pierre Yves Loriers of Krabi Riviera Co., Ltd., a well-established tourist villa management and construction company in Krabi, Thailand, said, "Visitors from the U.K. make up a large percentage of those taking their holiday in idyllic Krabi."
"The exhibit is a testament to the importance of Thailand's tourism relationship with the U.K.," he continued, "and shows a great deal of mutual respect. With over 909,355 visitors coming from the U.K. each year, the positive economic influence for Thailand cannot be underestimated."
Shopping is GREAT Britain Contest
The Central Group is sponsoring a contest running from March 3-29, and named "Shopping is GREAT Britain". A winner will be selected from shoppers spending 1500 Baht on any of the products made in the U.K. and sold at Central Department stores nationwide. The grand prize is an all-expense paid shopping trip to London.