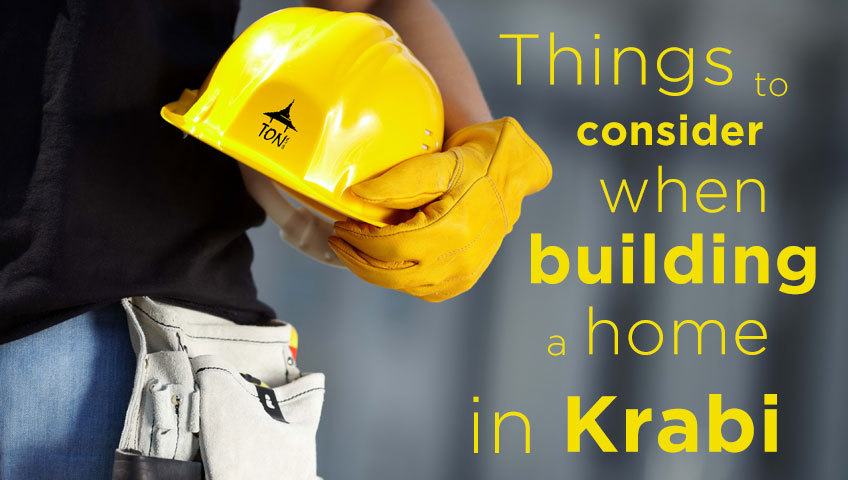 Things to consider when building a home in Krabi, Thailand
If you've chosen to build a vacation or retirement home in Krabi, Thailand, there are several important things you need to know and to consider. Building such a dwelling can be very affordable, and, if you're interested in renting it out when you're not occupying it, also very profitable.
Designing and building a home is a complex business. There are architects, contractors, skilled labor and legalities that must be addressed. Therefore, it is vital that you use the services of a reputable Krabi architect and construction company to guide you through the process. They will know the locals, the language, and the law, thereby ensuring that the project will run smoothly and without stress.
Finding a Reputable Architect and Construction Company
There are certain questions that an experienced architect and construction company will know to ask you. After reading through these considerations, you should be able to decide, with confidence, the company to choose.
How are you planning to use the property? This question is a very important one that a good architect will ask you, hopefully before you've purchased the property. After all, if the architect doesn't know your intentions, he or she cannot know how to proceed properly.
Property requirements are very different depending on how you intend to use it. Building a home to retire in, building a vacation villa for your own use, or constructing a villa for rental purposes is very different. Your property developer should be able to advise you before beginning the design phase of your new home.
Location, Location, Location! If you are building a retirement or a vacation villa, you no doubt want it to be in a location that best suits you. Do you want a home in the mountains, or close to a beach? Do you want a home in a quiet residential area, or do prefer solitude? One consideration, if you are planning to build a retirement home is that it be close to shopping areas and medical facilities. In addition, the more desirable the location, the more the home will increase in value.
Security Concerns: Although there is not very much crime in Krabi, you and your renters would no doubt want to feel safe from intruders. A secure perimeter wall is recommended to keep out stray dogs, snakes, and burglars.
Outside Areas: Whether you plan to retire in the home, rent it out, or use it for holidays, usable outdoor space is an important consideration so you can enjoy Krabi's beautiful weather. You will want to consider easily maintained landscaping, and perhaps a patio and barbeque area.
Swimming Pool: In Krabi, pool villas are in high demand for property owners. If you plan to rent out your villa, you can certainly charge more if there is a pool. Perhaps you want a pool in which you can luxuriate during the hottest months when it is hard to stay cool. You must address this consideration before purchasing land so that you will have sufficient space for a good-sized pool.
Utilities: You will need to know before you buy property whether standard utilities such as electricity, telephone and Internet connectivity are available in the location you choose. These are basic to westerners, but not necessarily to everyone who lives in Thailand. Even if you like roughing it, it will be hard to rent, if that is the purpose of you project.
Construction: There is a traditional architecture that is purely Thai in nature, and one that you should consider. Thai buildings are designed to deal with the heat, humidity and the rainy season. You will find that this type of construction lets sea breezes in to circulate and to cool the villa so that you don't have to use air-conditioning as much as you would think. It's a great way to save money in the long run.
Lifestyle: If you want to build a home in which to retire, you should take into account how easy it is to access every area of the house. It should be wheelchair-friendly and should be easy to ambulate in for an elderly person. In addition, such a vacation home opens up an entirely new rental market for the disabled.
Ton Company in Krabi, Thailand has been in the villa construction business for over 15 years. We have a team of professionals that can help you purchase, design and construct your dream villa. You can contact us or request a visit to one of our recent development sites to see what beautiful homes we build.
Contact Information
Address:
251/13 Moo 2 Ao Nang Krabi, Thailand 81180
(4203 road, near Soi Suan Tu Rien)
Thailand:
Tel.: 075 695 633
Fax.: 075 695 634
Mobile: 084 154 0808
International:
Tel.: +66 75 695 633
Fax.: +66 75 695 634
Mobile: +84 154 0808
Websites:
www.TonCompany.com
www.KrabiVilla.com
Emails:
info@TonCompany.com
info@KrabiVilla.com